Champagne British Car Festival Celebrates its 25th Anniversary in 2016!
The Champagne British Car Festival (CBCF) had its beginnings as an all-British car show held at a community college in Springfield, IL. It soon relocated to Urbana-Champaign in the spring of 1992.
Around 2004, a decision was made to move the festival to the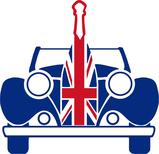 Hawthorn Suites in Champaign. The show was held in a nearby private parking lot. The CBCF remained here until 2009. In 2010, the festival "moved on down the road" to Bloomington, IL where the show found its current location at the David Davis Mansion in the near east side. The host hotel is the Bloomington Hawthorn Suites.
The CBCF Committee Members at the festival have always worked hard to give the CBCF an identity of its own, with organized activities beginning on Friday evening June 3 and continuing through Sunday afternoon June 5 with with an All-British car display.
Jaguar cars get the spotlight at the 25th annual Champagne British Car Festival being held June 5 at the David Davis Mansion State Historic Site in Bloomington.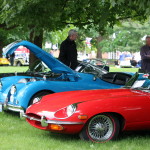 More than 130 British cars are expected at this popular annual event organized by the Flat Land British Car Club. The featured "marque" or nameplate is Jaguar, which produced its jaunty sports cars from 1931 to the present.  For more history – click here.
The festival's car show runs from 10 a.m. until the awards ceremony at 3:30 p.m. on Sunday, June 5. The day will conclude with awards for best of show and best in individual classes.  A Premiere Class award will also be given for the car selected as the best among the previous year's class winners.
The festival will also include a vintage race car in which children will be allowed to sit, have their pictures taken and talk with the owner, a former vintage car amateur racer.
For more information, visit www.cbcf-bloomington.com  or https://www.facebook.com/CBCF25/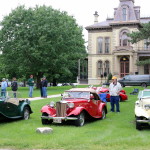 The David Davis Mansion State Historic Site, administered by the Illinois Historic Preservation Agency, was built in 1872 for Supreme Court Justice David Davis and his wife, Sarah. The site is open Wednesday through Sunday from 9 a.m. to 4 p.m. for public tours. To learn more, visit http://DavidDavisMansion.org.  Donations of $5 for adults and $2 for children, or $10 for an entire family, are requested to benefit the David Davis Foundation.
As with most car shows, the enthusiasts who volunteer their time and  efforts have made the CBCF what it is today. The Champagne British Car Festival has become an annual event for many British car enthusiasts in the Midwest for 25 years.
May the devotion and energy continue!